Most of the time, bedrooms would come in neutral colors like white because they are safe colors and the owners will not worry about the color of the items they want to add since it will still look good in the space. But then, there are other homeowners who choose to have bedrooms with bold or bright colors to make it appear lively. Others even have multi-colored bedrooms that looks fun and exciting. If you are looking for a color that is refreshing, bright and lively, why don't you try yellow?
Yellow represents intellect and it is the color of the mind. It is optimistic and cheerful. and can even be related to the sun's brightness. That is why yellow is a happy and bright color. When used for the bedroom, it exudes a blinding beauty but that also depends on the tone of the color that one decides to use. We have collated some yellow bedrooms so you can get ideas on how to use the color for your very own sleeping areas. You will also see that there are different yellow tones used for every space. Now, it is up to you which one you would like to use because in truth, whatever is the hue as long as it is yellow, it will still end up gorgeous!
Bedroom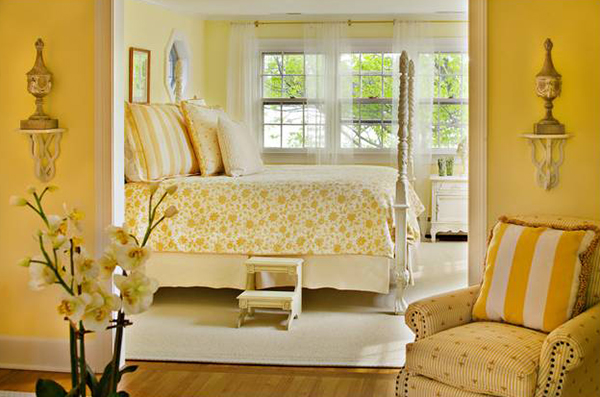 Image: Bountiful
Floral prints on the blanket and stripes on the pillows are so cute that it will make you feel like rolling on this lovely bed.
Merilane Avenue Residence 2 Guest Bedroom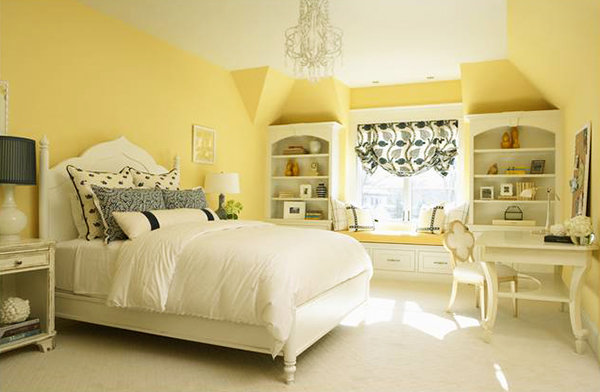 Image: Martha O'Hara Interiors
The walls of the bedroom creates a happy impression of the space that has white and dark blues in it.
Casa Paralea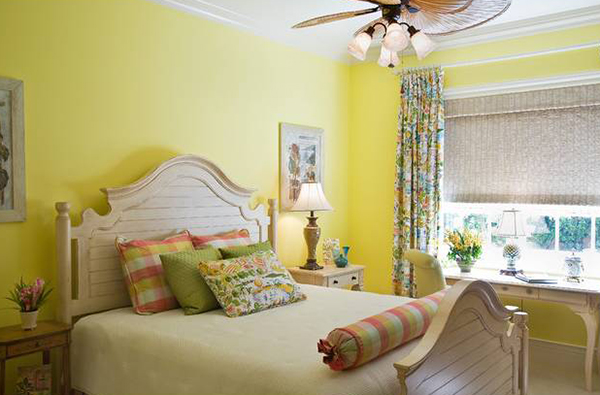 Image: JMA Interior Decoration
It is a good idea to use fabrics in different colors as it gives more highlight to the yellow wall.
Kiawah Island Residence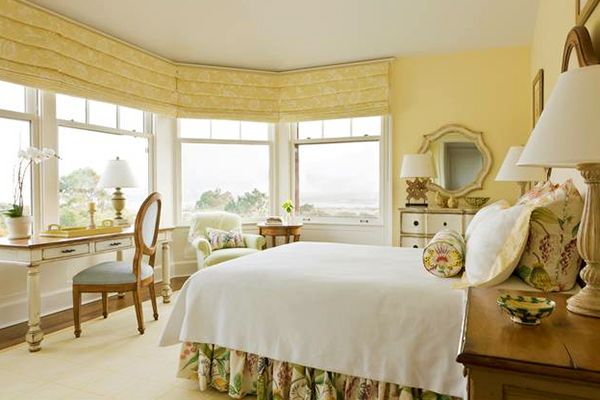 Image: Hughes Design Associates
Classic bedrooms in this color are really lovely! The printed fabrics for the bed is just perfect.
Kings Creek 2 (After)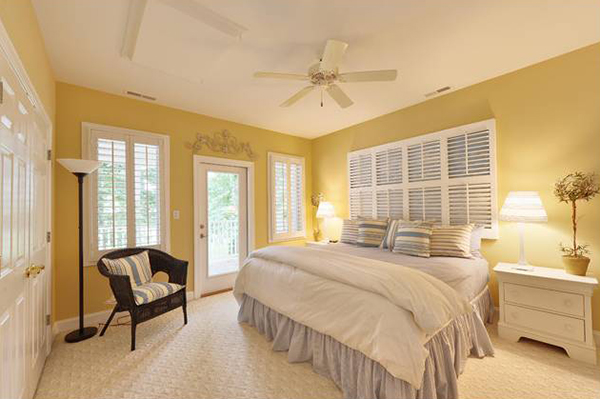 Image: Renewvation
A simple traditional bedroom that has some white and stripe blue motif for its beddings. Take a look at the wall decal above the door, isn't it nice?
Classic Bedroom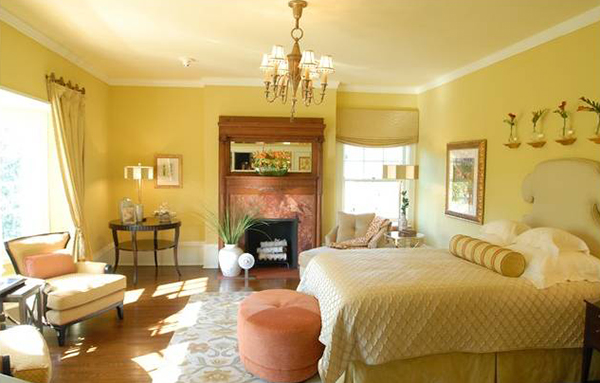 Image: Fringe Home Design
We love the idea of adding some floral wall decors on the headboard like they have actually grown from there! When you look around this bedroom, you will see how yellow kissed it with beauty.
Guest Bedroom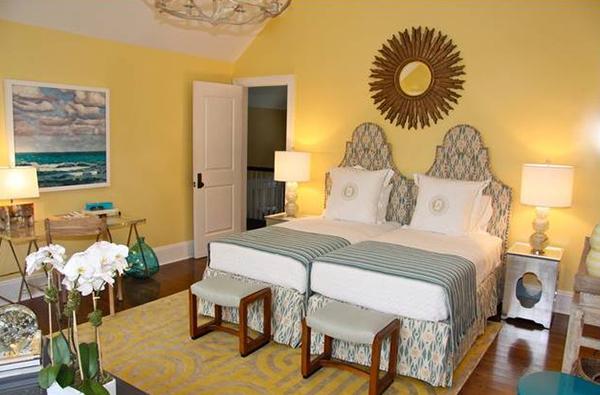 Image: Arden Stephenson, ASID
Twin beds with a nice pattern is the centerpiece of this yellow bedroom along with that sunburst wall decor.
Gathering Place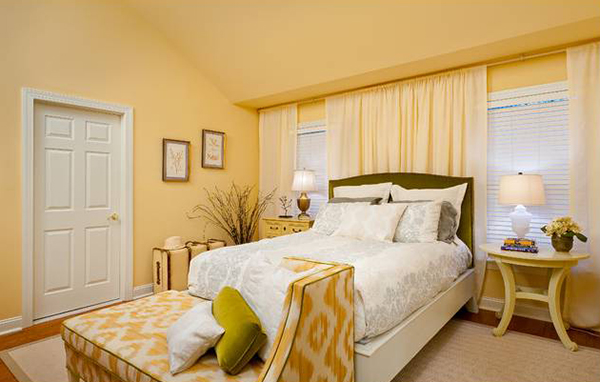 Image: Belle Maison Interior Design
The yellow bench at the foot of the bed is really pretty! It upgraded the beauty of this bedroom.
Getaway to the 2013 Holiday House Hamptons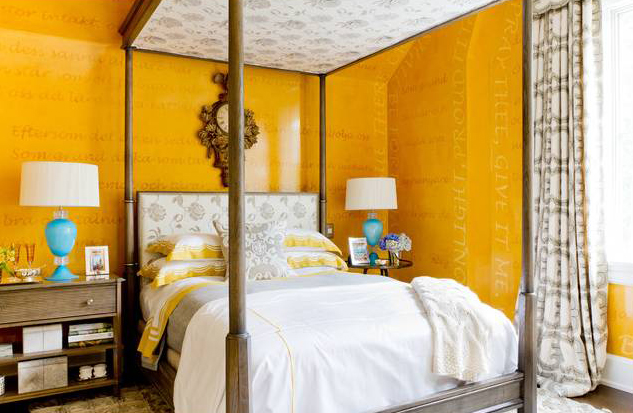 Image: Rikki Snyder
What made this bedroom unique are the writings on the walls. But it does look bold and gorgeous!
Interior Design Gallery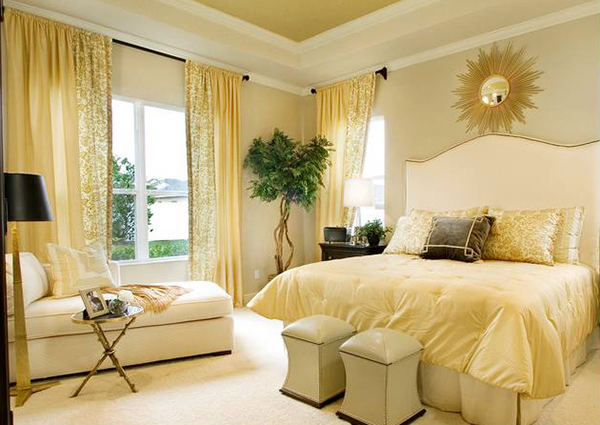 Image: Masterpiece Design Group
That sunburst wall decor on top of the headboard shouts "elegance" as it added sheen to this yellow bedroom. We love the drapes and beddings too!
Rosso, Acero, Bianco Opaco Bed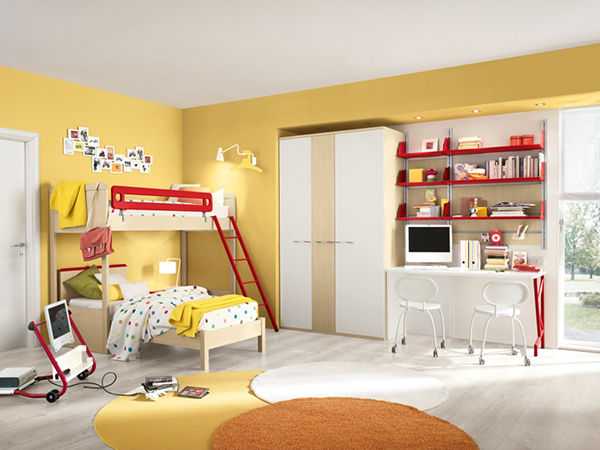 Image: Colombini Casa
A modern bedroom for teenagers in yellow with pops of red all around.
Zebra Print Bedroom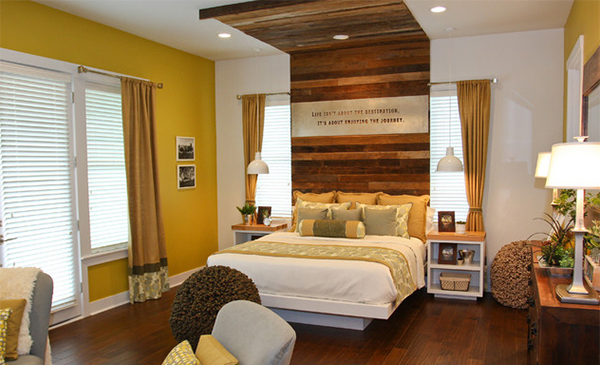 Image: Elle Décor
The wooden panel for the canopy of the bed is a rustic addition to the space. The writings on the canopy gives an artistic twist!
Yellow Bedroom Furniture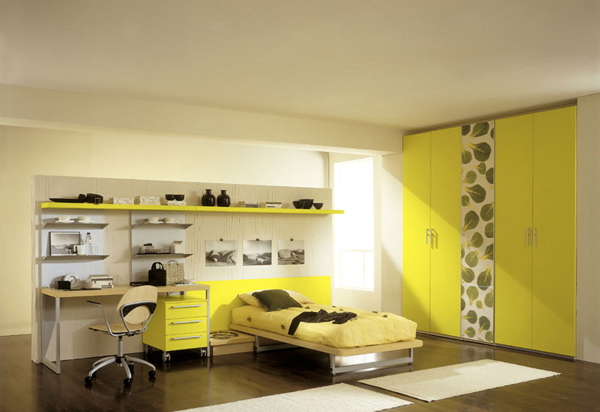 Image: CIAInternational
One modern bedroom in yellow and wooden flooring. The yellow wardrobe and the printed area is a head turner!
70's Bedroom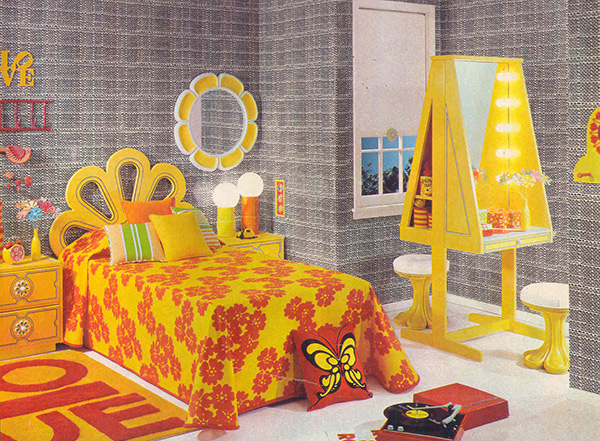 Image: Gold Country Girls
Some teenagers would love to get a retro inspired bedroom like this one! Just look at all the patterns in it!
Kids Room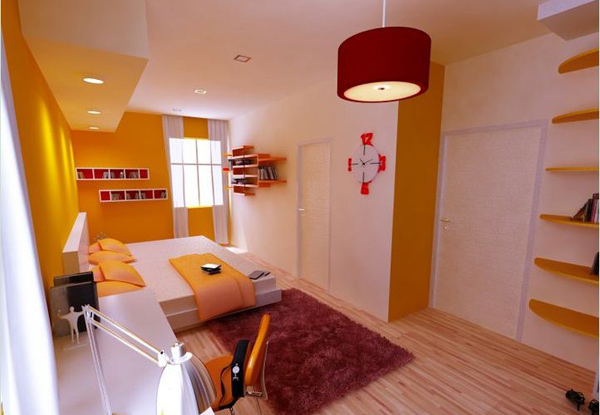 Image: Chuennie
Having a modern bedroom like this gives a clean and organized look especially with a well-planned storage system.
Didn't you feel energized when you saw the yellow bedrooms above? We sure you did because that is what yellow would convey to us. Shoo away your gloomy days and your nightmares with a lively yellow bedroom. Once you enter a bedroom with this color, you can't help but smile because of the lightness and joy it exudes. But yah, you can still stick with the usual natural hues for your bedroom. Just in case, you might want to adapt an Art Deco bedroom for added style!