We compiled 15 Stunning Loft Beds for Girls which we think will definitely be loved but only but your lovely teenage girls at home but also the parents. The designs we have collated may not have been available or the same during our teenage years, but who knows? Maybe we can buy or ask someone to set up designs like these at home and use them ourselves. It would even be great for dormitories which have loft beds like these – everyone would just love them!
According to our beloved Wikipedia, a loft bed is an elevated bed similar to a bunk bed, but without the lower beds – freeing floor space for other furniture (such as a desk) which might be built into the loft bed. The nature of bunk beds allows two or more people to sleep in the same room while maximizing available floor space just like a loft bed. But like we said above, designs now vary. We're sure you will not only be amazed but stunned because they are just lovely! Enjoy the 15 Stunning Loft Beds for Girls
Red Princess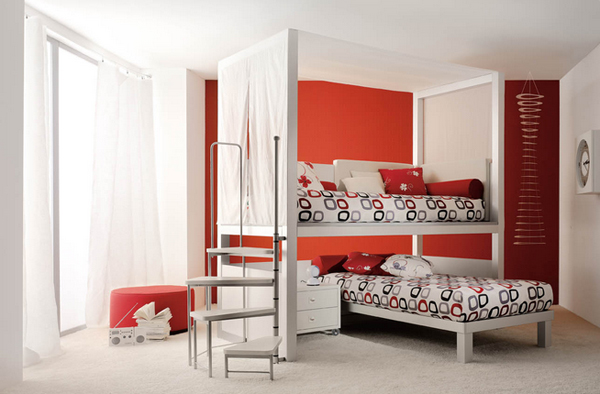 Image: Tumidei SPA
This is definitely a very modern version of a loft bed back when design was really limited to families who are interested in purchasing them. The red accent wall match the ottoman on the left and some of the pillow cases which go well with the whites and prints on the blanket.
Beautiful Lilac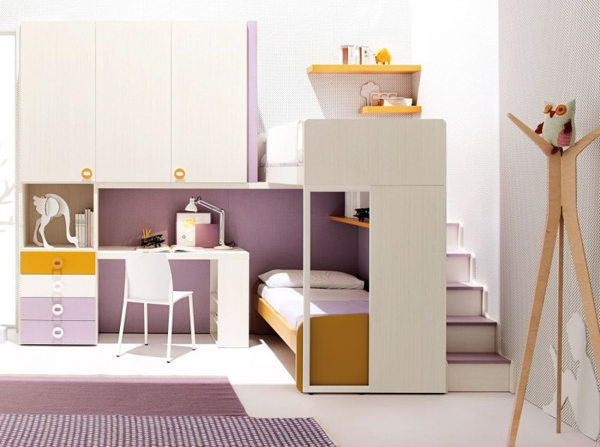 Image: Clever
The colors of this loft bed are really lovely! It's good to the eyes and blend well with each other. Adding lots of storage and desk makes this bed perfect for schooling teenage girls.
Camerette Girls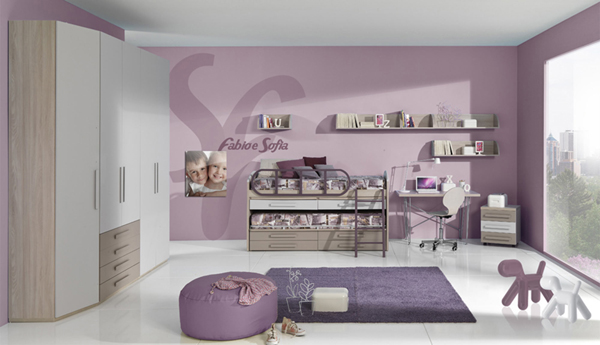 Image: Giessegi
If you prefer to use a color that is neutral towards what your two teenagers, this color is very much subtle and pleasing to eyes. It does not scream too girly or too childish. The space is definitely wide for fun and games.
Color Me Violet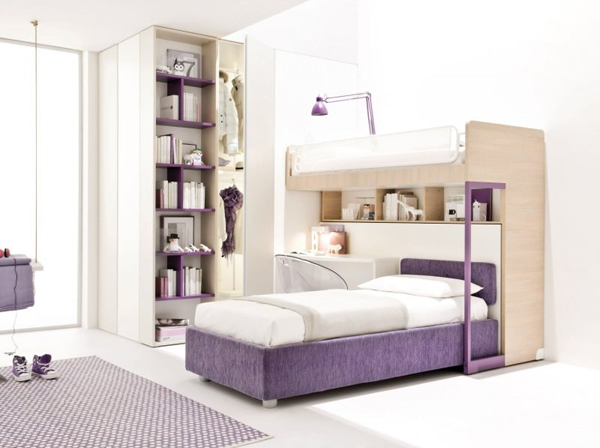 Image: Clever
We love the violet color of the bed frame and the headboard. Even the area carpet goes well with it.
Comic Loft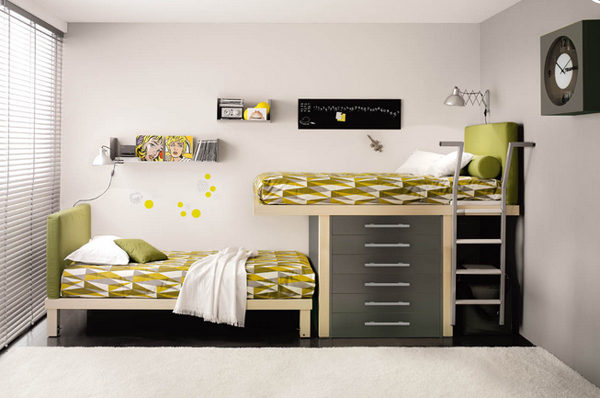 Image: Tumidei SPA
We really love the print on the blankets which match the headboard. The color of the cabinet contrast well with the walls and the white carpet – all in all, these loft beds are refreshing to the eyes.
Girls Camerette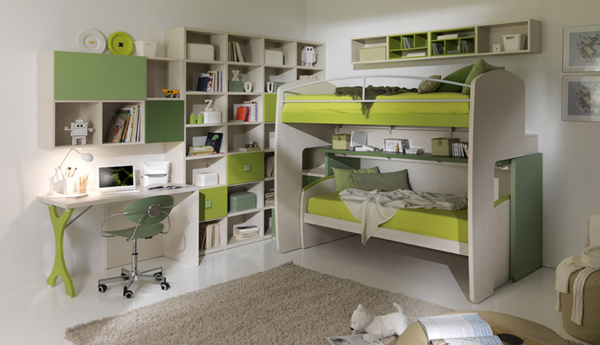 Image: Giessegi
Here is another nature-inspired loft bed which used different shades of green; even the swivel chair is a shade of green! We just love it!
Red Lips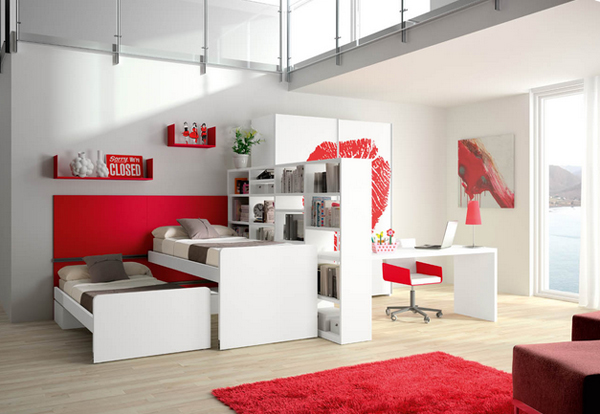 Image: Tumidei SPA
Tumidei SPA has tons of fun and modern loft beds. This one is fascinating that we can imagine having this bed in a loft if say you're sharing space with a sister. The bedroom is just an open shelf away from the work area.
Green and Pink Candy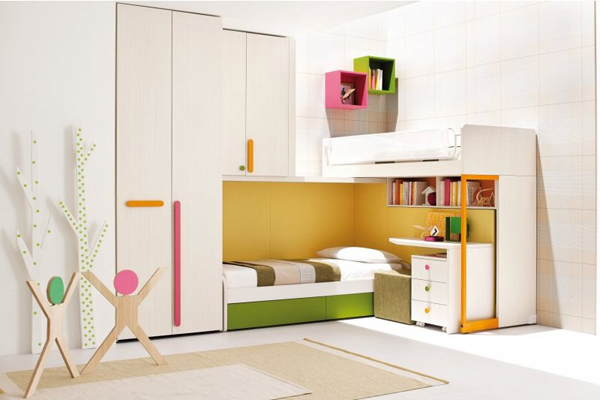 Image: Clever
Really fancy for a teenager room right? But very much worth it; we're pretty sure about that. Tons of storage matched with comfortable sleeping areas – this is one place even boys would love to stay.
Green Hearts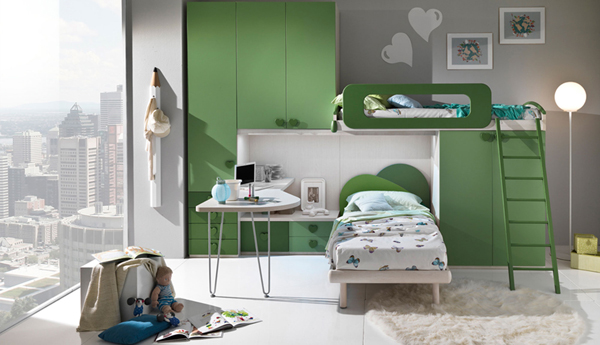 Image: Giessegi
Do you like how Giessegi designed this space with the modern modular loft bed and the lovely color palette? It rests the eyes; it's clean and has a great view! We love it!
Lilac Loft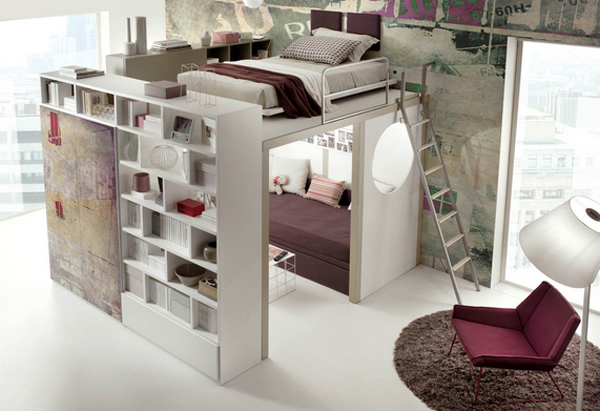 Image: Tumidei SPA
Super spacious area for this loft bed with unprecedented colors. The furniture built around it is not only functional but chic and really pretty. Most teenage girls will love this space.
Lilac and Pink Beauty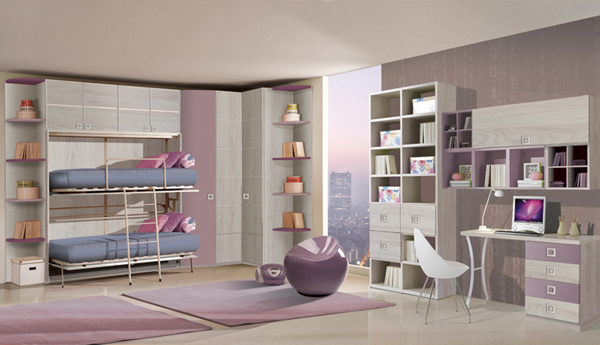 Image: Giessegi
The colors are really playful and somewhat candy coated of some sort. Fancy set up even girls from primary schools will love it!
Luscious Yellow Orange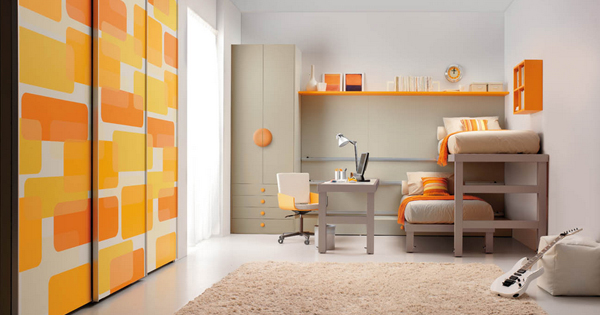 Image: Tumidei SPA
Bold, bright, yellow and orange combination. Its strong color may not be a crowd pleaser but the color is just so fascinating and it even makes us hungry.
Red and White Loft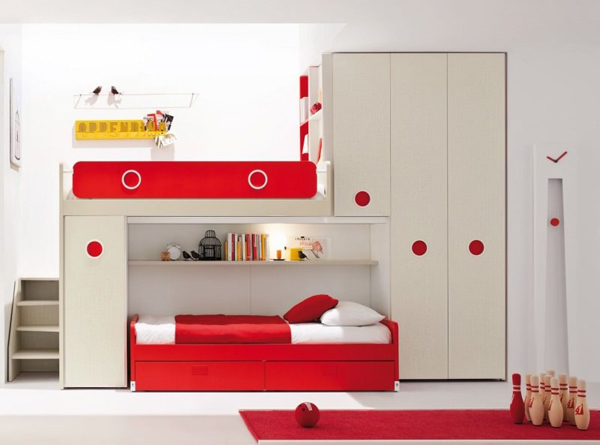 Image: Clever
This may be the most bold red we have in this list – but isn't it just stunning! It's fierce, sleek and very fun! The decor by the area carpet is just playful and eye-catching!
Pink Loft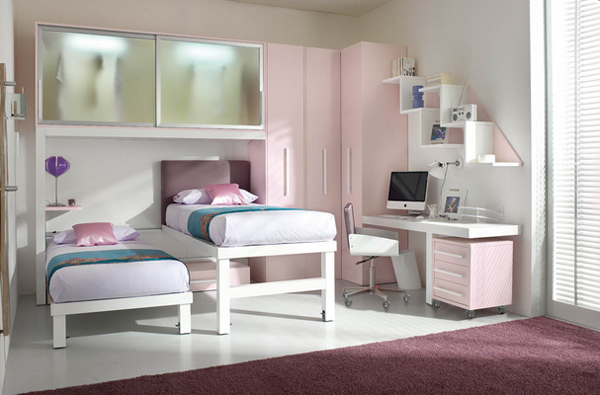 Image: Tumidei SPA
This bedroom is just so beautiful! The baby pink complement well with the dark lilac-colored area carpet on the side. Glass-covered sliding doors for the overhead cabinets look great too!
Schoolhouse Stairway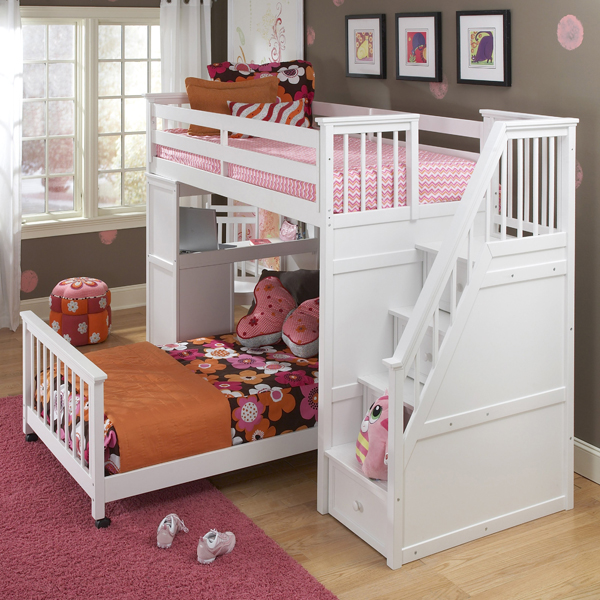 Image: Simply Bunk Beds
Very child-friendly and girly. The staircase serves as drawers for toys most of the time but can be used for clothes too!
You might have noticed that some of the 15 Stunning Loft Beds for Girls have railings on the sides – this is because all designers, manufacturers and furniture-makers make sure that safety is never given second priority. Like designing a home, safety should always be number one and aesthetics go second. We hope you like this list and we will be showing you more designs soon!