Men would always want their bedrooms to look good but minus the chic touches and decorations. Most bedrooms for men are gray, black, blue, white and other masculine colors but some also have some splash of colors in their rooms. Most of the time, bedrooms for men have gray shades in them- may it be a primary color in the space or just an accent. So, today, we will feature gray masculine bedrooms that would surely appeal to men.
Once you scroll down to take a look at the images below, try to observe how masculine these rooms really look and how each bedroom achieved that look. Take note of the grays in the bedroom and how other colors were used to accent them. You will also observe that the furniture have sleek lines on them and would look simple unlike beds for girls and ladies which usually have intricate designs and prints on them. Even lighting is minimal in style but still give the bedrooms a cozy atmosphere. Now take a look at what we have gathered for you:
Master Bedroom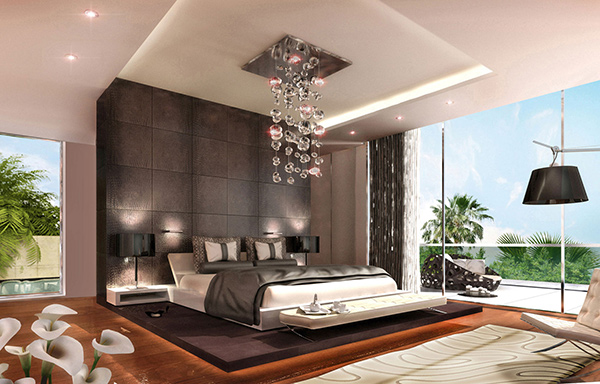 Image: Aboushady81
The floor to ceiling gray wall accent on the headboard side is an eye catcher but despite its masculine look, the bubble-like crystal pendant light added some lighter and chic touch to it.
Artem Bedroom

Image: Artem Lazarev
Gray and yellow combined are indeed lovely! We also like the wall partitions with numbers on it. Notice the textured wall as well as the patterns on the duvet.
Semi-D Bedroom – View 2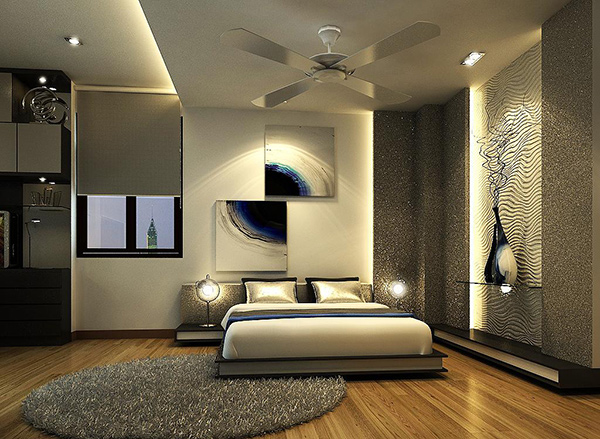 Image: Red Brent
Gray, silver and blue- what could be lovelier than this combination? The color combinations look futuristic, modern and totally stunning. The walls also have varying textures which was modulated by the wooden flooring and plain white walls on other areas.
Private Swimming Pool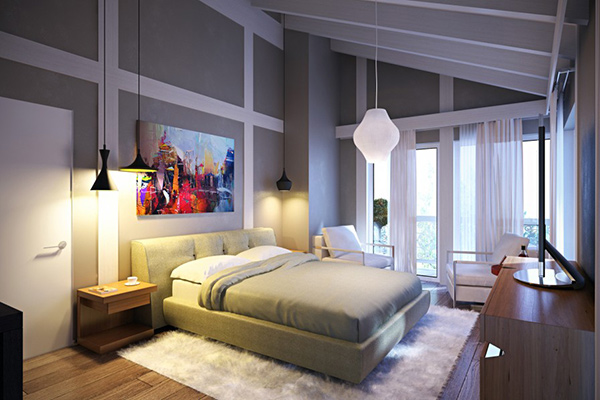 Image: Artem Boldyrev
White and gray walls defined this bedroom. The idea of using pendant lights of various designs is very creative. The wall painting is also a good addition to this space.
Apartment Bedroom Daylight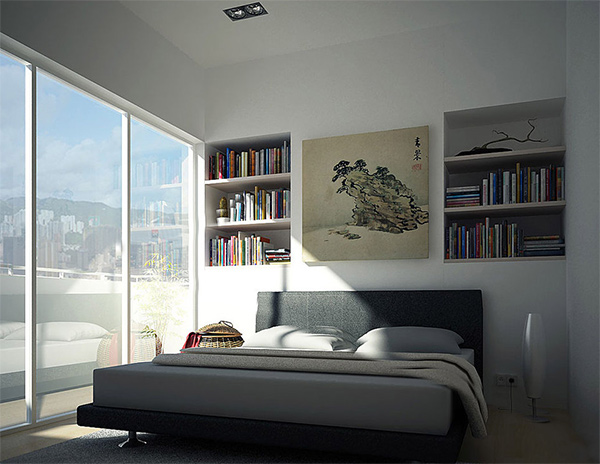 Image: Ranggaumbas
Clean, simple and manly- these are words that would come to mind once you take a glimpse of this bedroom. It is always smart to have wall shelves near the headboard area to save space.
Minimalist Bedroom Angle 2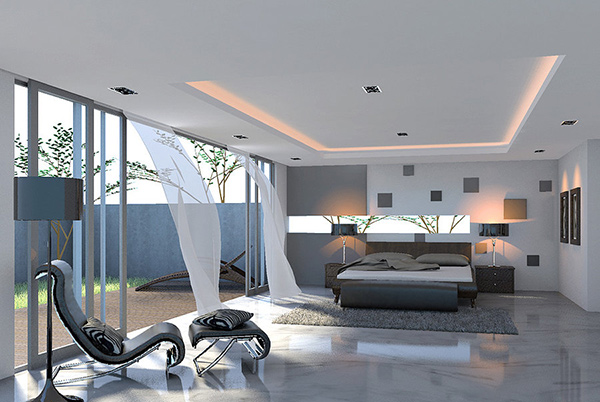 Image: Tankq77
White paired with light gray is just simple but gorgeous. Look at that lovely wall with squares in it. The bedroom lounge in gray and printed throw pillows adds more life to the space.
Double House – Bedroom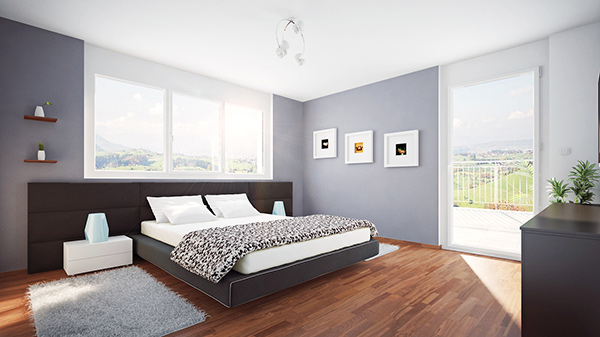 Image: Diegoreales
A gray upholstered headboard highlighted the bed. Instead of stuffing the bedroom with many decors, it opted to use minimal accents like the floating wall shelf and white framed images.
Modern Bedroom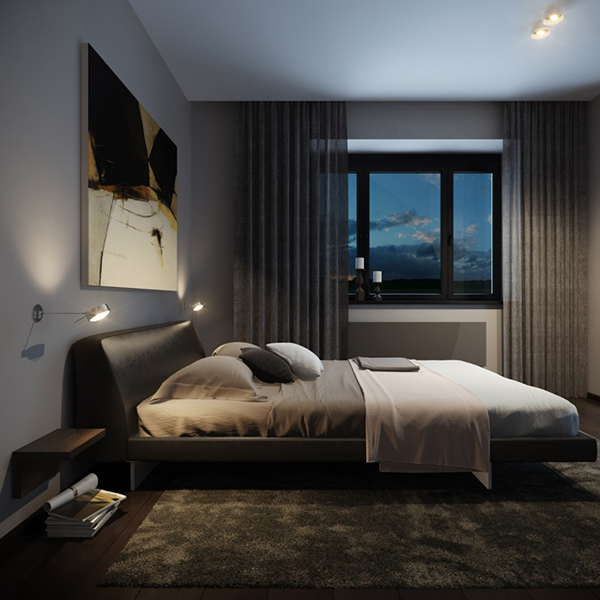 Image: Vladimir Bolotkin
A bedroom full of drama in its gray colors. The lighting is just right for relaxation while natural light enters the bedroom through the window.
Bedroom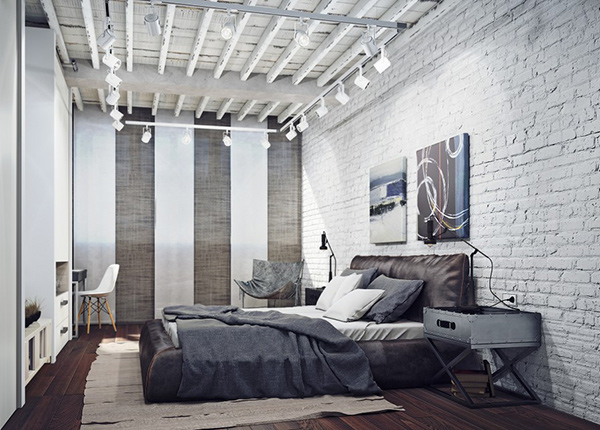 Image: Anna Teklyuk
White brick walls, exposed ceiling beams and a wall with gray stripes- these sum up to an industrial bedroom fit for a man.
Desert Mountain- Sunset Canyon- Contemporary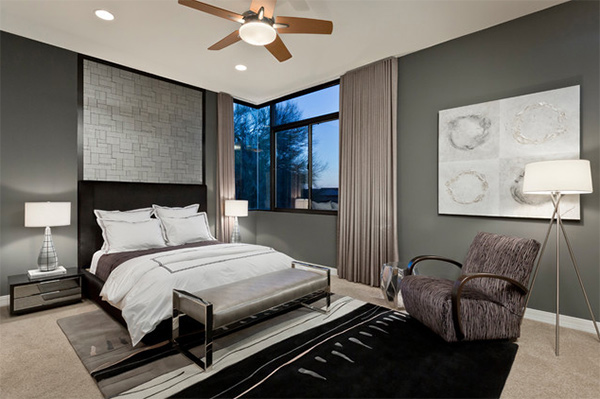 Image: Chris Jovanelly Interior Design
This bedroom look like a master's bedroom but its design will also appeal to males because of its colors and furniture with sleek lines.
The Hive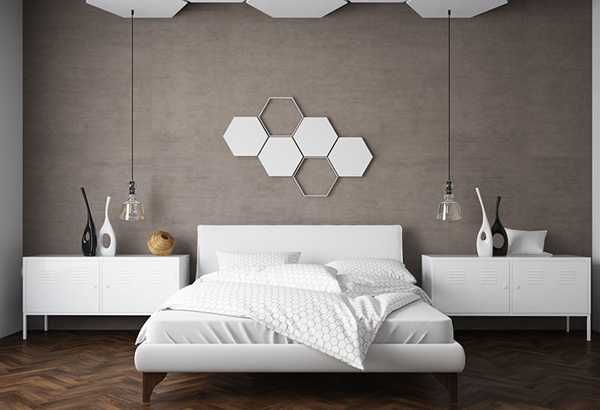 Image: DasilvaGFX
Hexagons are used not just as wall decor but also for the ceiling. This bedroom in gray and white sure have a hive motif in modern style.
Bedroom 1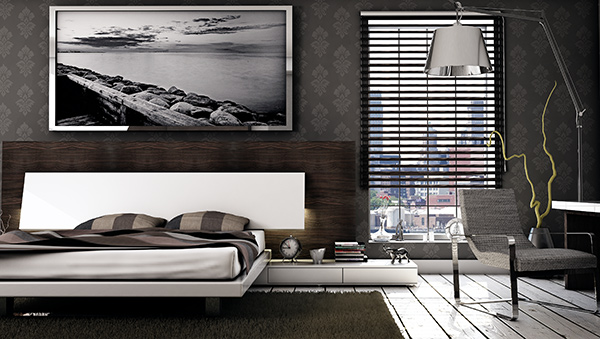 Image: Park0toker
This bedroom appears strong in its use of a patterned wall, stripes beddings, and other elements in it. Even the wall painting in black and white looks totally masculine.
Beach View Bedroom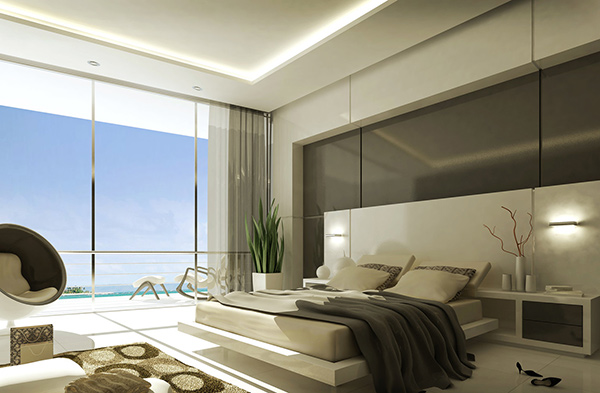 Image: Aboushady81
More white is seen in this bedroom but the grays in it sure exuded beauty making it look manly. The glass wall gives the owner a panoramic view of the outdoor scene.
Bedroom Gray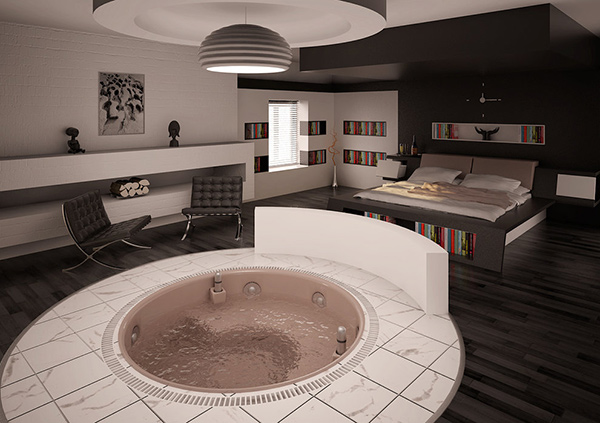 Image: Semsa
Who would resist a bedroom as classy and charming as this? It is designed with grays all around it from furniture to wall color.
Bedroom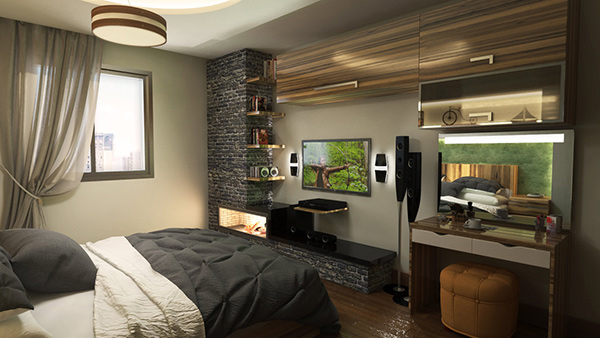 Image: Erenminareci
Wooden cabinets, brick wall accents and gray beddings- these complete the look of this small bedroom which is complete with everything a bachelor would like to own.
Beautiful, right? Even if these are bedrooms for men, they still look beautiful especially because of their minimal decor and lesser color combinations. Gray would really reflect masculinity which we can see from all the bedrooms showcased above. Pops of colors usually come from wall decors and paintings but other areas of the bedroom would be in gray or white. What can you say about this collection?